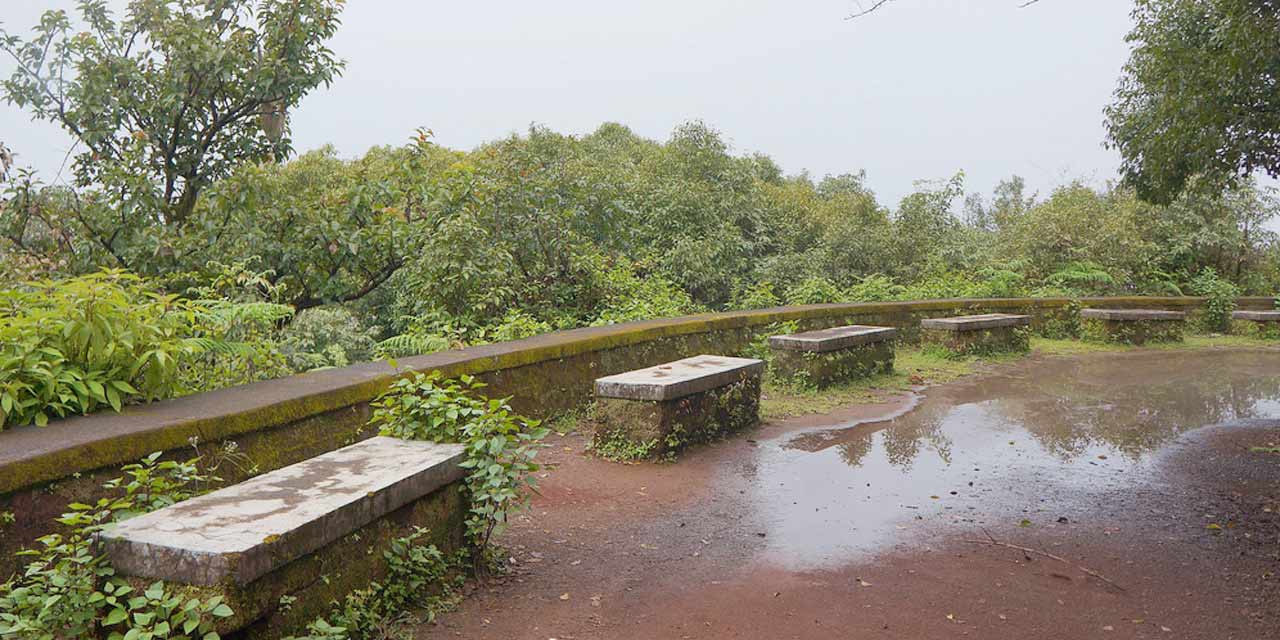 Babington Point Mahabaleshwar Entry Fee
Babington Point Mahabaleshwar Phone
N/A
---
Rating:

| 4/5 stars
Based on total 73 reviews
Babington Point Mahabaleshwar Address: Tapola Road, Birwadi, Satara, Mahabaleshwar, Maharashtra, 412806, India
Mahabaleshwar Tour Packages
Babington Point Mahabaleshwar Timings
| Day | Timing |
| --- | --- |
| Monday | 6:00 am – 6:00 pm |
| Tuesday | 6:00 am – 6:00 pm |
| Wedesday | 6:00 am – 6:00 pm |
| Thursday | 6:00 am – 6:00 pm |
| Friday | 6:00 am – 6:00 pm |
| Saturday | 6:00 am – 6:00 pm |
| Sunday | 6:00 am – 6:00 pm |
Links:
Website
|
Map
---
Take some time out of your busy schedule to admire the untouched beauty of Babington Point in Mahabaleshwar. Perched approximately 1200 meters high above sea level, the Babington Point is a stunning viewpoint that invites nature buffs to admire the mesmerizing views of the Chinaman Waterfall and surrounding areas encompassed by the densely covered mountain ranges. It's an idyllic destination for tourists to experience quietness, away from the maddening crowd of the town and is undoubtedly a great spot for wanderers as well as sightseeing explorers.
People from different corners of the world love visiting this place at least once – to enjoy a panoramic view of the famous Solshi Valley and Koyna Valley. Here you can also spend hours sitting on the resting benches and overlooking the enchanting nature that gives you a kind of experience you'll cherish forever. What else? This viewpoint is frequently visited by couples seeking some privacy on their Mahabaleshwar tour and can also be explored by families with children.
Things to do at Babington Point, Mahabaleshwar
Considered as a must-visit sightseeing place in Mahabaleshwar, Babington Point has several things for tourists to keep themselves occupied throughout the time. A few of them are as follows:
1. Trekking: Try your hand at trekking to get one step closer to nature. You can choose the trail of your choice to climb up to the hill and admire different species of plants and animals. The plus about trekking here is - it can be experienced by both beginners and experienced people.
2. Bird Watching: Heaven for bird watchers, Babington Point is a place where you can spot a diverse range of birds flying from here to there in the sky. One can also dance to the tunes of their chirping calls to make the most of their visit.
3. Photography: Don't forget to bring a good quality camera with you if you're interested in capturing its green view from various angles. The Babington Point offers a laid-back atmosphere with a picture-perfect backdrop for shutterbugs to click some Instagrammable worthy pictures.
Other points of interest that lie within close proximity to this unspoiled site are Mahabaleshwar Temple, Venna Lake, Lingmala Waterfall, Pratapgarh Fort, Arthur's Seat, Krishnai Temple, Pratap Singh Park, Mapro Garden, and Tiger Spring.
Entry Fee and Timings of Babington Point, Mahabaleshwar
To visit Babington Point, you don't need to pay anything to anyone. Coming to its timings, this viewpoint remains open all day long but the recommended timings are from 6 in the morning to 6 in the evening i.e., from sunrise until sunset.
Image Gallery of Babington Point Mahabaleshwar
Best Time to Visit Babington Point, Mahabaleshwar
Plan your getaway to Babington Point during the monsoon season i.e., from July to October to have the best time of your life. At this time, the region receives heavy showers of rain which makes the greener side of the town look even more refreshing and beautiful.
Also, this marks the beginning of the offseason in Mahabaleshwar. That means if you wish to avoid the crowd on your trip, it can certainly be an ideal time for you and your family members.
How to Reach Babington Point, Mahabaleshwar?
The Babington Point is only 2.5 km away from the main market of Mahabaleshwar and hence, can be easily accessed via a short stroll. In case you don't want to walk on foot, look for an auto-rickshaw ride or a taxi from the list of top car rental companies in Mahabaleshwar.
Distance from the Pune International Airport: 128 km
Distance from the Pune Railway Station: 120 km
Distance from the closest Wathar Railway Station: 60 km
Distance from the Mahabaleshwar Bus Stand: 3.3 km
---
Explore the best of Mahabaleshwar with our all-inclusive Mahabaleshwar tour packages. We at Mahabaleshwar Tourism, a division of Holidays DNA, take care of everyone's varied holiday needs and design our travel packages accordingly. Our Mahabaleshwar tour packages can also be altered as per your choice. We can also help you select a package along with curating an itinerary that helps you cover the best sightseeing places in Mahabaleshwar. To know more about us, please fill out the Contact Us form.
Location Map for Babington Point Mahabaleshwar