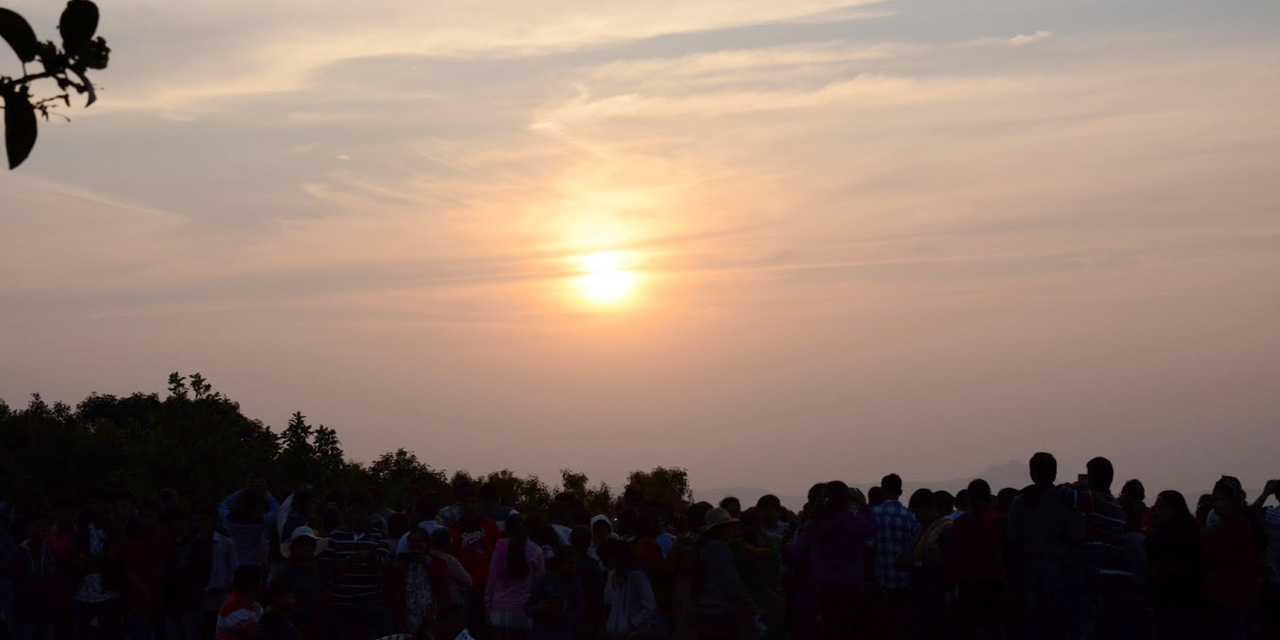 Mumbai Point/Sunset Point Mahabaleshwar Entry Fee
Mumbai Point/Sunset Point Mahabaleshwar Phone
---
Rating:

| 4/5 stars
Based on total 77 reviews
Mumbai Point/Sunset Point Mahabaleshwar Address: Near the Valleys, Old Bombay Road, Satara, Mahabaleshwar, Maharashtra, 412806, India
Mahabaleshwar Tour Packages
Mumbai Point/Sunset Point Mahabaleshwar Timings
| Day | Timing |
| --- | --- |
| Monday | 6:00 am – 6:00 pm |
| Tuesday | 6:00 am – 6:00 pm |
| Wedesday | 6:00 am – 6:00 pm |
| Thursday | 6:00 am – 6:00 pm |
| Friday | 6:00 am – 6:00 pm |
| Saturday | 6:00 am – 6:00 pm |
| Sunday | 6:00 am – 6:00 pm |
Links:
Website
|
Map
---
The oldest point of Mahabaleshwar, Mumbai Point or Sunset Point is one of its own kind of viewpoints that welcomes people to enjoy the breathtaking view of the sunset from different angles. Named after its location on the old Bombay Road, the Mumbai Point is considered ideal for couples to rekindle the romance between them and is undoubtedly a great spot for families to enjoy a picnic with their children.
Tourists love visiting this place all around the year, at least once to see its magical charisma that is hard to look over anywhere else. Here you can bring your picnic basket to create some unforgettable memories for a lifetime. One can also engage in photography to capture some amazing shots of the setting sun for their Instagram profile. Other activities such as Choupati Games and Horse Riding are also available at the location for your utmost enjoyment.
Entry Fee and Timings of Mumbai Point, Mahabaleshwar
There is no entry fee to soak in the picturesque beauty of Mumbai Point in Mahabaleshwar. It remains open for its visitors all day long, but the recommended timings would be from 6:00 AM to 6:00 PM on all days.
Image Gallery of Mumbai Point/Sunset Point Mahabaleshwar
How to Reach Mumbai Point, Mahabaleshwar?
Lying 3 km away from Mahabaleshwar Bus Stand, Mumbai Point can be easily accessed by people through local modes of transportation. You can either look for an auto-rickshaw ride or a bus to get to your desired location in your utmost comfort. Alternatively, there is a list of top car rental companies in Mahabaleshwar available for your ease.
Please note that Mahabaleshwar doesn't have an airport. So, if you're planning to travel via air to reach Mahabaleshwar in the least possible time, you can board a flight to Pune International Airport which receives frequent domestic and international flights from almost all parts of the world.
The Pune Railway Station is considered the nearest major railhead to Mahabaleshwar. Tourists traveling from Mumbai, New Delhi, Hyderabad, Chennai, and the rest of the metro cities of India can catch a train to this railway station for a hassle-free railway journey. From there, depending on your trip budget and style, you can opt for your mode of commutation.
---
Explore the popular sightseeing places in Mahabaleshwar with our Mahabaleshwar tour packages. We at Mahabaleshwar Tourism, a division of Holidays DNA, present a variety of packages to cater to everyone's varied holiday needs. You can also opt for our all-inclusive travel packages to enjoy your Mahabaleshwar tour at reasonable prices. Please fill out the Contact Us form to know more about our packages and ongoing deals in detail.
Location Map for Mumbai Point/Sunset Point Mahabaleshwar