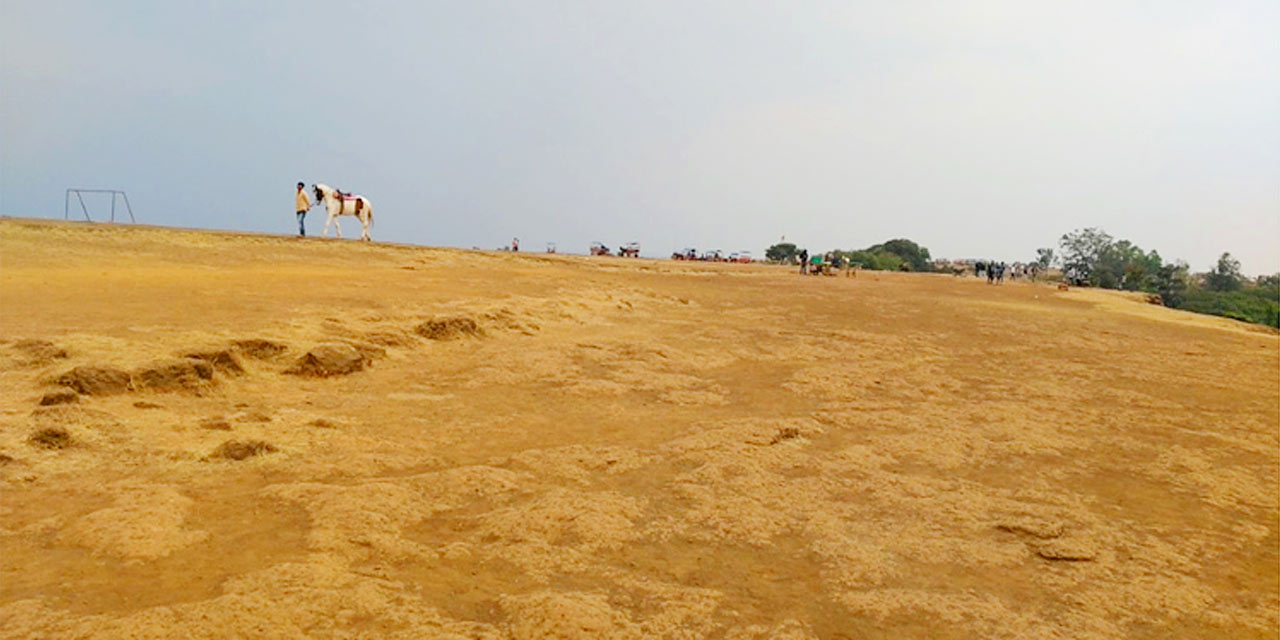 Tableland Mahabaleshwar Entry Fee
No Entry Fee

Horse Riding
800 - 2500 per person for 9 - 16 view points
Tableland Mahabaleshwar Phone
N/A
---
Rating:

| 4/5 stars
Based on total 75 reviews
Tableland Mahabaleshwar Address: Table Land Road, Godavali , Panchgani, Maharashtra , 412803, India
Mahabaleshwar Tour Packages
Tableland Mahabaleshwar Timings
| Day | Timing |
| --- | --- |
| Monday | 6:00 am – 6:00 pm |
| Tuesday | 6:00 am – 6:00 pm |
| Wedesday | 6:00 am – 6:00 pm |
| Thursday | 6:00 am – 6:00 pm |
| Friday | 6:00 am – 6:00 pm |
| Saturday | 6:00 am – 6:00 pm |
| Sunday | 6:00 am – 6:00 pm |
Links:
Website
|
Map
---
The highest point of Panchgani, Tableland is a popular sightseeing place in Mahabaleshwar that welcomes people from different corners of the world to look over the breathtaking view of the majestic hills.
Perched 4500 feet high above sea level, Tableland is Asia's 2nd largest mountain plateau that attracts nature buffs and adventure seekers in large numbers every year – all thanks to its abundance of lush greenery, tranquil atmosphere, and pleasant environment.
Here you can see the Rajpuri Caves along with Devil's Kitchen which was earlier used by Pandavas to cook their food during their exile. This viewpoint has also been used in many popular hit Bollywood movies such as Taare Zameen Par, Raja Hindustani, Hum Tumhare Hain Sanam, etc. Please note that it's just a short stroll away from the main market of Panchgani and hence, can be reached on foot.
Things to do at Tableland, Mahabaleshwar
Visit One Tree Hill Point to enjoy a 360-degree view of the surrounding areas encompassed by stretching forests and deep valleys. Famous for trekking, One Tree Hill Point has only one tree growing on the top of the peak.
The Pandava Footsteps is another attraction that catches everyone's attention here at this location. It is said that there are actual footsteps of the Pandavas that have managed to remain intact even after so many centuries.
Relish the taste of mouthwatering snacks and refreshments that are served by local vendors at this plateau. Depending on your mood and taste, you can have pav bhaji, coconut water, chats, roasted corn, misal pav, etc.
Try your hand at horse riding to explore the best of the area. For your enjoyment, there are a range of arcade games available along with short prop games to bring the inner child out. Fun rides like mini-train are also there for little ones to mingle with other kids of their age.
Entry Fee and Timings of Tableland, Mahabaleshwar
There is no entry fee to visit Tableland in Mahabaleshwar. Speaking of the timings, it welcomes tourists 24 hours a day but the recommended timings would be from 6:00 AM to 6:00 PM from Monday to Sunday. Overall, you need to spare 1-2 hours to explore the picturesque beauty of this unspoiled site.
Image Gallery of Tableland Mahabaleshwar
Best Time to Visit Tableland, Mahabaleshwar
One can plan a getaway to the Tableland in Mahabaleshwar at any time of the year. For your ease, we have hereby listed the detailed break up of every season so that you can decide on the things related to the trip accordingly:
March to June: In summer, the temperature starts climbing up, but it's still quite bearable as compared to the other cities of India. With an average temperature ranging from 15 degrees Celsius to 35-degree Celsius, the overall weather remains pleasant and cool for tourists to roam around the popular sightseeing places in Mahabaleshwar. Please carry lightweight cotton clothes along with you as these would be the best option to wear this season.
November to February: Winters are considered ideal to head toward the Tableland in Mahabaleshwar. Why? Because this is the time when the atmosphere is just right for locals to engage themselves in many outdoor activities without worrying about the harsh sunny heat. It's the peak season and hence, has a huge crowd from all around the world. Don't forget to pack light woolen clothes to keep yourself warm enough after the sunsets.
July to October: It's the monsoon season in Mahabaleshwar and during this time, the region receives heavy showers of rain every year. Though the amazing combination of rains with hills, mountains, and valleys makes Mahabaleshwar look no less than a paradise, still it is less visited by people due to unfavorable climate conditions. However, if you wish to avoid the crowd, this can be a great time to visit.
How to Reach Tableland, Mahabaleshwar?
Lying at a distance of 20 km away from Mahabaleshwar, Tableland can be easily accessed by people via a rental taxi from Ola or Uber. Alternatively, there is a list of top car rental companies in Mahabaleshwar available from where you can hire a cab of your choice to commute within the hill station in your utmost comfort.
The following are 3 different ways to reach Mahabaleshwar:
By Air: Pune International Airport is the closest air terminal to Mahabaleshwar. This airport has flights from almost all parts of the nation. So, no matter which metro city you belong to, you can fly to this airport to experience hassle-free traveling.
By Train: Although Wathar Railway Station is the nearest railhead to Mahabaleshwar, due to its less connectivity to the other railheads of the country, most tourists prefer traveling to Pune Railway Station for a seamless train journey.
By Road: The MSRTC department runs various private and state-owned buses for the convenience of people of all age groups. These buses run to and from Mahabaleshwar on an everyday basis at pocket-friendly prices. So, if you like road traveling, you can surely go ahead with this option!
---
Have the best time of your life with our all-inclusive Mahabaleshwar tour packages! We at Mahabaleshwar Tourism, a division of Holidays DNA, present a variety of travel packages for our diverse clientele. Our Mahabaleshwar tour packages can also be altered as per your choice. You just need to tell us the inclusions you want us to include in your package and we promise to do that happily for you. To know more about our offerings, please fill out the Contact Us form.
Location Map for Tableland Mahabaleshwar