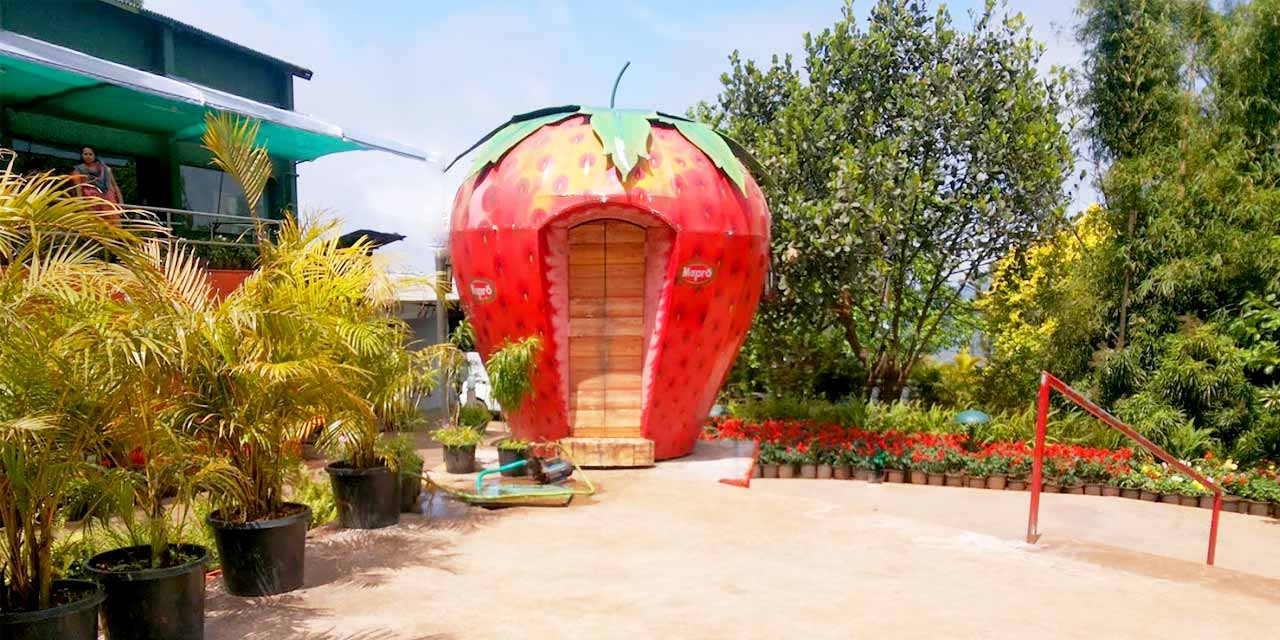 Mapro Garden Mahabaleshwar Entry Fee
Mapro Garden Mahabaleshwar Phone
---
Rating:

| 4/5 stars
Based on total 75 reviews
Mapro Garden Mahabaleshwar Address: Gureghar, Panchgani Mahabaleshwar Road, Mahabaleshwar, Maharashtra , 412806, India
Mahabaleshwar Tour Packages
Mapro Garden Mahabaleshwar Timings
| Day | Timing |
| --- | --- |
| Monday | 8:00 am – 8:00 pm |
| Tuesday | 8:00 am – 8:00 pm |
| Wedesday | 8:00 am – 8:00 pm |
| Thursday | 8:00 am – 8:00 pm |
| Friday | 8:00 am – 8:00 pm |
| Saturday | 8:00 am – 8:00 pm |
| Sunday | 8:00 am – 8:00 pm |
Links:
Website
|
Map
---
Regardless of whether you are traveling to unwind or spend some time with your loved ones, the act of moving away from routine life is fulfilling. Away from your everyday chores, boring drives to work, non-stop office messages, and unending tasks, you need a break for yourself. Travelling allows you to enjoy things that interest you. What could be better than taking that long pending break and heading to plush strawberry farms tucked away amidst the hills. To spend an exciting day in the lap of nature, visit Mapro Garden with your family.
Settled amid the beautiful hills of Panchgani, Mapro Garden is one of the popular tourist places to visit in Mahabaleshwar. Mapro is an abbreviation of a famous establishment called Mahabaleshwar Products, making luxurious organic product-based supplies. When it comes to its specialty and uniqueness, it doesn't lag.
The destination houses an industrial chocolate facility, an eatery cum bistro, a nursery, and a kids' play zone alongside a retail outlet that sells Mapro items. The cafe serves luscious food made out of natural ingredients sourced locally. They have a collection of indulgences to choose from, including sandwiches and pizzas.
If you plan your holiday in Mahabaleshwar, you should visit Mapro garden to taste their exquisite strawberry with whipped cream. The tables get lined up in the cafe with varieties of juicy strawberries, which people can have for free as much as they want.
A cultural program is arranged each day where artists from neighboring towns perform traditional dance and music gigs. The Annual Strawberry Festival is a significant event organized at Mapro Gardens, and it attracts tourists from across the globe.
Mapro Gardens are not just strawberry farms anymore. They are a popular picnic spot in Mahabaleshwar where you can spend a day relaxing at the lush strawberry farms. Photo booths, sprawling gardens decked with in-house Khakra plants, and delectable lunch with fantastic views of surrounding hills are activities at Mapro Garden that keep visitors engaged throughout the day.
The place is a haven for strawberries' production, and the food served here deserves a special mention. Mapro gardens is a famous picnic spot in Mahabaleshwar that can be visited with family and kids for spending a day filled with excitement. The time you will spend there in the chocolate factories and food shops will always be cherished. You can easily spend around 3 to 4 hours in Mapro gardens.
The strawberry trail and the exquisite chocolate factory are major attractions at Mapro Gardens. It will be a fantastic experience for you to watch the chocolates and fruit-flavored soft drinks being prepared in front of your eyes. Mapro items like syrups, sauces, jam, chocolates, mocktails, and blends, are available for purchase at a considerable discount of up to 10%.
Among all their other products, Falero - a thick fruit bite is Mapro's most mainstream product that contributes a significant lump of their income. If your family trip is long due, this is an ideal opportunity to welcome everyone and head to the Mapro Garden for some memorable moments with your family.
Architecture of Mapro Gardens
The campus is spread across two acres. The picturesque landscape is adorned by lush greenery, vibrant flowers. Around 9 lakh square feet of the area is covered by Mapro Foods, their in-house chocolate factory and industrial facility that produces a scope of Mapro items for sale aside from assembling items for industrial supply to Café Coffee Day, Betty Crocker, General Mills, Walls, Pilsbury, and Kissan.
The grounds likewise house a couple of retail counters – Mapro Stores – and two cozy and comfortable cafés. They also have an auditorium to showcase informative short films about fruits and chocolates, other Mapro products, which are engaging for kids.
History of Mapro Garden
In 1959, Mr. Kishore Vora began business activities in a little room in the village of Gurehar. It was his independent venture started with an aim of mutual benefit. He wanted to support the farmers in the area while running a business of making strawberry jam using their fresh produce. The business model benefitted both parties leading to the launch of the Mapro brand in 1978.
During the 1980s, Mapro Garden expanded the Mapro Food Factory. It attracted guests to watch for themselves how jams and syrups were produced in factories. The continued interest of visitors encouraged them to serve their other food items including the much-loved frozen yogurt.
In recent years, Mapro Garden has become a prominent tourist destination in Mahabaleshwar and is frequently visited by locals as well. The business has been growing steadily by the continuous efforts of Mayur Vora and Rajvi Vora. It is currently managed by his successors Nikunj Vora and Radhika Vora.
The values of Mr. Kishore Vora are still exhibited in the business, as it is being efficiently handled by his third generation. The idea of giving a little extra to the farmers and customers is what grew Mapro from 2 to 1000+ employees. They offer a captivating experience to the visitors that is etched onto their memory forever.
Image Gallery of Mapro Garden Mahabaleshwar
Things to do at Mapro Garden
There are numerous fun activities to do at Mapro Gardens for visitors of all age groups. The soothing ambiance, well-manicured gardens, interesting décor, and yummy treats make it a perfect place to enjoy yourself with your family. Here is a list of the fun things to do at Mapro Garden:
1. You can visit and explore the Mapro Manufacturing Unit and enjoy watching the manufacturing process of all their delicious offerings.
2. Spend some time appreciating the natural beauty and strawberry-themed décor of the Mapro Gardens. The mini-waterfall and artificial pond add cheer to the captivating scenery.
3. Relish their organically manufactured products such as ice-creams, flavored-yogurt, and shakes as you enjoy the scenic beauty of the Panchgani hills.
4. Click Insta-worthy pictures against the astounding scenery of the surroundings.
5. Mapro Strawberry Festival is an annual event you must attend if you plan your visit in April. It is a 3-day celebration organized by the management during Easter weekend. You can enjoy the best varieties of strawberries, such as Winter Dawn, Cama Rosa, and Sweet Charlie for free.
6. Visit the Mapro Bakery to taste their products made with 75% Whole Wheat Flour. They serve chemical and preservative-free bread. You can also watch their bread and pizza base production process.
7. Mapro Live Kitchen is another interesting attraction at Mapro Garden. You can gorge on cheese sandwiches, wood fire pizzas, shakes, and other finger foods. The dishes are freshly prepared to your taste, right in front of you.
8. Shop at the retail market dedicated to Mapro products.
Entry Fee and Timings of Mapro Gardens
Entry Fee: There is no entry fee to be paid to visit Mapro Garden, Mahabaleshwar. You can bring your cameras also without paying any fee and capture the fun moments to cherish them forever. All food products at the restaurant are chargeable. The visit to their industry facilities and tasting tours are free for all visitors.
Timings: Mapro Garden can be visited between 8:00 AM to 8:00 PM on all days of the week.
Best Time to Visit Mapro Garden
During winters: The best time to visit Mapro Garden is in winters, from December to February. The warmth of the sun is delicate on the skin, and the weather is pleasant. There are no traces of humidity and the temperature varies between 15 degrees Celsius to 25 degrees Celsius.
During summers: In the summer months of March and April, the Mapro Strawberry Festival is celebrated, attracting many tourists.
During Monsoon: Monsoon isn't the best season to visit Mapro Garden as you may experience erratic patterns of rain, typical to the area. It makes touring in the hilly region troublesome. If you plan your visit during the monsoon, do not forget to carry umbrellas and raincoats.
How to reach Mapro Garden
Mapro Garden is well connected to the neighboring cities by road. Here is how you can reach Mapro Garden:
By Air: The nearest air terminal to Mahabaleshwar is at Pune which is around 120 kilometers away from the city. You can hire a cab from the airport or rent a bike/car to Mapro Garden, Panchgani.
By Road: i. Panchgani bus stop is the nearest bus stop to Mapro Garden. It is around 8 kilometers from the destination. You can hire a cab or hail an auto from the bus stop to reach Mapro Garden.
ii. You can also drive or hire a taxi from top car rental companies in Mahabaleshwar to reach Mapro Garden.
The distance of Mapro Garden from popular cities is:
Mahabaleshwar: 12 kilometers approximately can be covered in around 22 minutes.
Panchgani: 7 kilometers approximately can be covered in around 13 minutes
Pune: 108.5 kilometers approximately can be covered in around 2.5 hours
Mumbai: 251.2 kilometers approximately can be covered in around 4.5 hours.
Things to keep in mind while visiting Mapro Gardens
Mapro Garden is a fun place to visit in Mahabaleshwar. Here is a list of things to keep in mind while visiting Mapro Garden:
1. Carry sunscreen, hats, or sunglasses with you to shelter yourself from the heat of the sun.
2. Do not litter the farms, nursery, or restaurant. The place is well-equipped with dustbins, consider using them to maintain hygiene and cleanliness.
3. Temporary henna designing is available for tourists free of cost.
---
We at Mahabaleshwar tourism, a division of Holidays DNA, help you make the most of your holiday with a wide variety of Mahabaleshwar tour packages. Our team of experts have carefully designed the packages suiting to your budget. You can avail the best deal at the competitive prices. Please fill out the Contact Us form to know more about the packages.
Location Map for Mapro Garden Mahabaleshwar