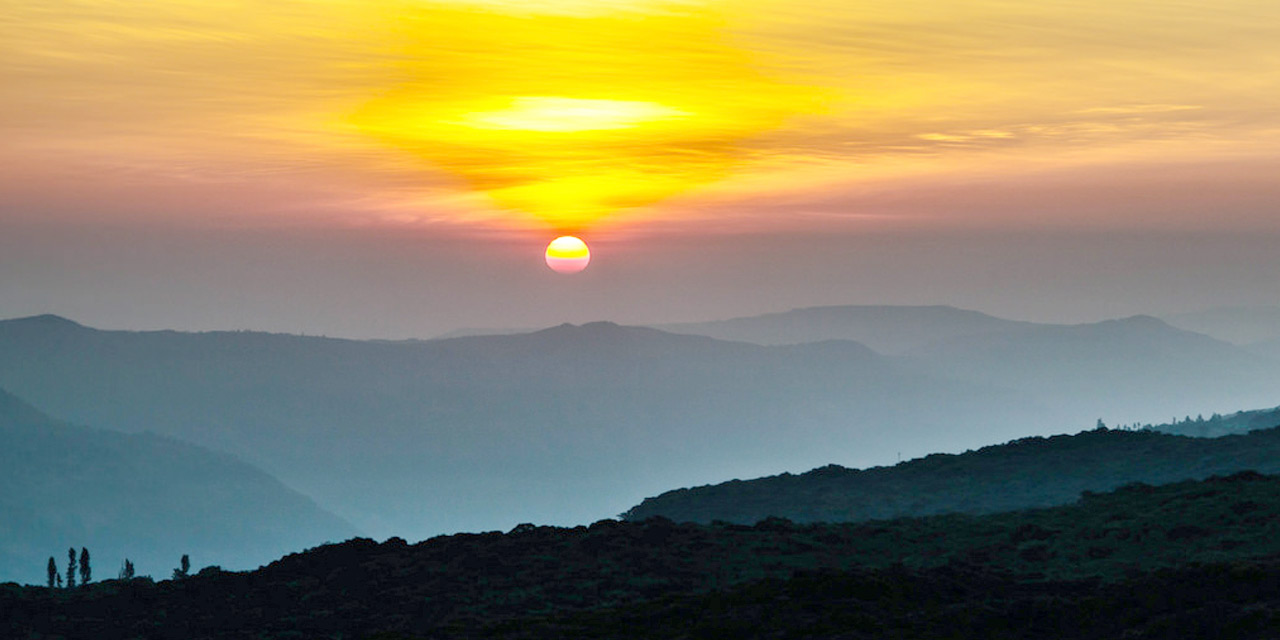 Wilson Point/Sunrise Point Mahabaleshwar Entry Fee
Wilson Point/Sunrise Point Mahabaleshwar Phone
---
Rating:

| 4/5 stars
Based on total 76 reviews
Wilson Point/Sunrise Point Mahabaleshwar Address: Satara, Mahabaleshwar, Maharashtra, 412806, India
Mahabaleshwar Tour Packages
Wilson Point/Sunrise Point Mahabaleshwar Timings
| Day | Timing |
| --- | --- |
| Monday | 6:00 am – 8:00 pm |
| Tuesday | 6:00 am – 8:00 pm |
| Wedesday | 6:00 am – 8:00 pm |
| Thursday | 6:00 am – 8:00 pm |
| Friday | 6:00 am – 8:00 pm |
| Saturday | 6:00 am – 8:00 pm |
| Sunday | 6:00 am – 8:00 pm |
Links:
Website
|
Map
---
The highest point in Mahabaleshwar, Wilson Point, commonly known as Sunrise Point, is a famous sightseeing place in Mahabaleshwar for people interested in enjoying a jaw-dropping view of the valley.
Named after Sir Leslie Wilson, Wilson Point is a vast plateau and an extremely mesmerizing viewpoint that invites nature lovers from different corners of the world to admire the sunrise from different angles. The hues of the sun when spread all over the area looks breathtakingly beautiful, encouraging you to visit this site time and time again. One can also enjoy the sunset here with a panoramic view of the entire Mahabaleshwar town to make the most of their time.
Entry Fee and Timings of Wilson Point, Mahabaleshwar
Entry to Wilson Point is free for everyone. As such, there are no opening and closing timings for this picturesque site as it remains open all day long but the recommended timings would be from 6:00 AM to 8:00 PM from Monday to Sunday. Overall, you need to spare 1-2 hours from your busy schedule to soak in its beauty.
Image Gallery of Wilson Point/Sunrise Point Mahabaleshwar
How to Reach Wilson Point, Mahabaleshwar?
Wilson Point is only 2 km away from Mahabaleshwar Bus Stand. So, once you reach there, you can choose to walk on foot, take an auto-rickshaw ride, or simply hire a taxi from the list of top car rental companies in Mahabaleshwar. The choice is completely yours!
Please note that in case you're planning to travel to Mahabaleshwar via air, you'll need to fly down to Pune International Airport first and then look for other ways of commutation that will help you get down to the town. The Pune International Airport is the nearest air terminal to this hill station of Maharashtra and has flights from almost all parts of the world.
Another way is by public and private buses. For your convenience, there are many buses operated by the MSRTC department from the neighboring cities to Mahabaleshwar on an everyday basis. Not only is it comfortable for all age groups but is also a pocket-friendly mode of transportation. Look for a luxury coach if it's overnight traveling for you.
---
Need any help? Get in touch with us! We at Mahabaleshwar Tourism, a division of Holidays DNA, offer a variety of Mahabaleshwar tour packages to suit everyone's varied holiday needs. Our travel packages can also be altered along with an itinerary depending on your 1-day, 2-day, or 3-day visit to Mahabaleshwar. You can also ask our team for any travel deals if available to enjoy your trip at reasonable prices. Please fill out the Contact Us form to know more.
Location Map for Wilson Point/Sunrise Point Mahabaleshwar