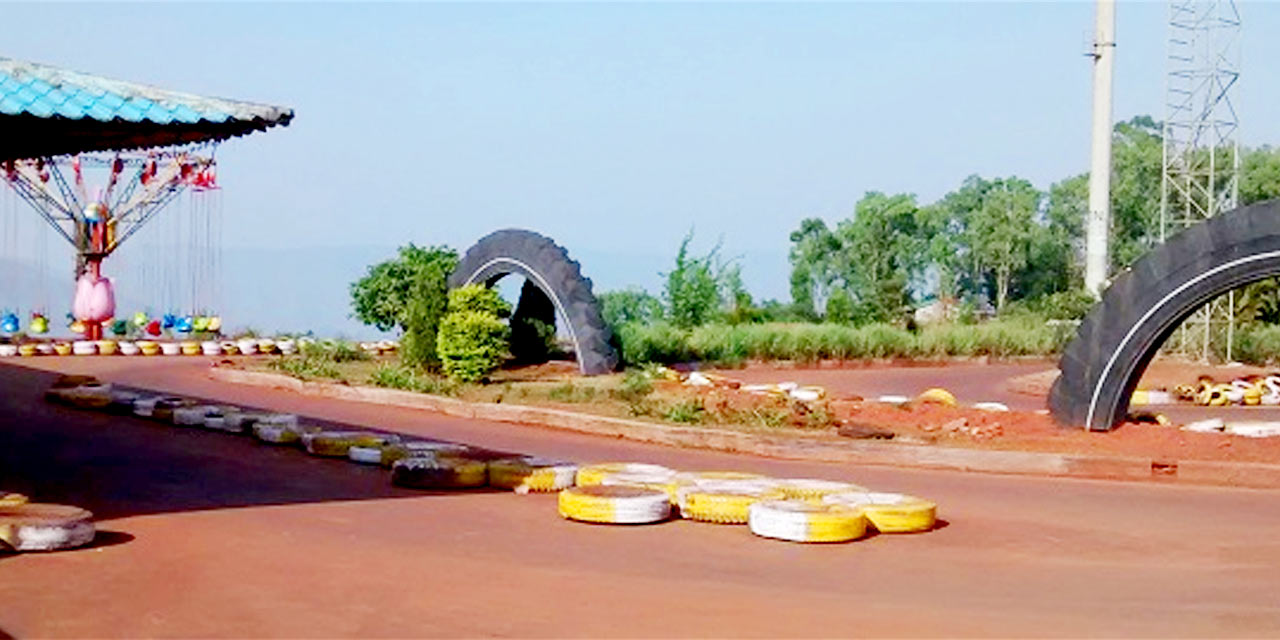 Velocity Entertainmentz Mahabaleshwar Entry Fee
Games Cost
50 Coins for Indoor Games
100 for Air Hockey
200 for Dashing Cars
350 for Go-karting (Single Seater) 4 Laps 600 for Go-karting (Double Seater) 4 Laps
100 for Gyroscope
70 for Hanging Merry Go-Round
150 for Bungee Trampoline
200 for Bungee Ejection
200 for Drop Towers(Free Falls)
90 for Shooting
150 for Rodeo Bull
70 for Giant Wheel
Velocity Entertainmentz Mahabaleshwar Phone
---
Rating:

| 4/5 stars
Based on total 76 reviews
Velocity Entertainmentz Mahabaleshwar Address: Bhose Panchgani Road, Satara , Mahabaleshwar, Maharashtra , 412805, India
Mahabaleshwar Tour Packages
Velocity Entertainmentz Mahabaleshwar Timings
| Day | Timing |
| --- | --- |
| Monday | 9:00 am – 11:00 pm |
| Tuesday | 9:00 am – 11:00 pm |
| Wedesday | 9:00 am – 11:00 pm |
| Thursday | 9:00 am – 11:00 pm |
| Friday | 9:00 am – 11:00 pm |
| Saturday | 9:00 am – 11:00 pm |
| Sunday | 9:00 am – 11:00 pm |
Links:
Website
|
Map
---
If you're looking for a fun-packed action affair on your Mahabaleshwar tour, then you should look nowhere else than Velocity Entertainmentz Park. It's a theme amusement park that serves as a one-stop destination for people of all ages. Whether you're a child, an adult, or a senior citizen, you can surely visit this unspoiled site to create some memories with your near and dear ones.
Perched at a height of 1200 meters above sea level, the Velocity Entertainmentz Amusement Park is a perfect location for people to forget about everyday worries for some time. Here you can enjoy go-karting in the lap of Mother Nature along with occupying yourself with many other things that will not allow you to feel bored even for a second. One can also bring in picnic baskets for family outings! What else? The experience you get here is something you'll remember for your lifetime!
Things to do at Velocity Entertainmentz, Mahabaleshwar
Head towards the indoor games arena to spend some fun time with your family members. The indoor games section has many games such as Dashing Cars, Air Hockey, BasketBall, Horse Riding, Rifle Shooting, and Hill Climbing. There is a Helicopter ride as well for the enjoyment of kids.
Try your hand at outdoor activities to feel an adrenaline rush in your body. Heaven for adventure-buffs, Velocity Entertainmentz provides a home to numerous outdoor rides and slides for people looking to do something different and out-of-the-box. These include Drop Tower, Zip Line, Giant Wheel, Hanging Merry Go Round, Bungee Trampoline, Bungee Ejection, Rodeo Bull, and Gyroscope.
Visit the on-site Temptation Restaurant to relish the taste of a diverse range of Indian and Italian cuisines. For non-vegetarians, the site boasts a Palladium Restaurant that serves lip-smacking dishes like Biryani, Mutton, Chicken, Kabab, etc to cater to your taste buds. You can also enjoy Sundae Ice-cream to perfectly end your meal with a dessert specially prepared to satisfy your cravings.
Image Gallery of Velocity Entertainmentz Mahabaleshwar
Entry Fee and Timings of Velocity Entertainmentz, Mahabaleshwar
There is no entry fee to visit the Velocity Entertainmentz Park in Mahabaleshwar but you'll need to pay different charges for each ride you take. For example, it costs INR 50 coins for indoor games, INR 70 for a giant wheel and hanging merry-go-round, INR 90 for shooting, INR 100 for Air Hockey and Gyroscope, INR 150 for Rodeo Bull and Bungee Trampoline, and INR 200 for dashing cars, Bungee Ejection, and Free Falls.
Speaking of the Go-Karting, the Velocity Entertainmentz Amusement Park charges INR 350 for a single-seater car ride and INR 600 for a double-seater car ride. It allows you to complete 4 laps to have the best time of your life.
Coming to its timings, this unspoiled site opens its door for people from 9:00 AM to 11:00 PM on all days and the recommended exploration time would be 4-5 hours.
Facilities at Velocity Entertainmentz, Mahabaleshwar
What makes Velocity Entertainmentz Park stand out from the other leisure and recreational sites in Mahabaleshwar is the list of facilities it offers for the convenience of people. For example, there is an ATM facility, a women's footwear shop for females of all age groups, a Chikki and Fudge Counter, and a Handicraft Shop for shopaholics to bring some souvenirs back home.
How to Reach Velocity Entertainmentz, Mahabaleshwar?
Situated at a drive of only 30-minutes away from the heart of Mahabaleshwar is the Velocity Entertainmentz Park in Panchgani. Once you reach Mahabaleshwar, you can look for local transport like a rental taxi from Ola/Uber or hire a cab from the list of top car rental companies in Mahabaleshwar to experience a hassle-free commute to your desired location.
It is worth noting that Mahabaleshwar doesn't own an airport. The nearest airport is the Pune International Airport which receives frequent domestic and international flights for all kinds of travelers. So, if you like traveling by air, you can fly to this airport to cover the maximum distance in a minimum time.
Another convenient way is through roadways. One can catch a private or state-owned bus from the neighboring cities to enjoy road traveling in their utmost comfort. Luxury coaches with AC facilities are also available for the ease of people. Depending on your budget and holiday, you can choose to travel the way you want!
---
In case you need any help, get in touch with our professionals! We at Mahabaleshwar Tourism, a division of Holidays DNA, present a variety of Mahabaleshwar tour packages to cater to our diverse clientele. Our team of experts can also help you add a personal touch to the all-inclusive packages so that you can enjoy your trip to the fullest. To know more about our packages and ongoing deals, we request you to fill out the Contact Us form.
Location Map for Velocity Entertainmentz Mahabaleshwar