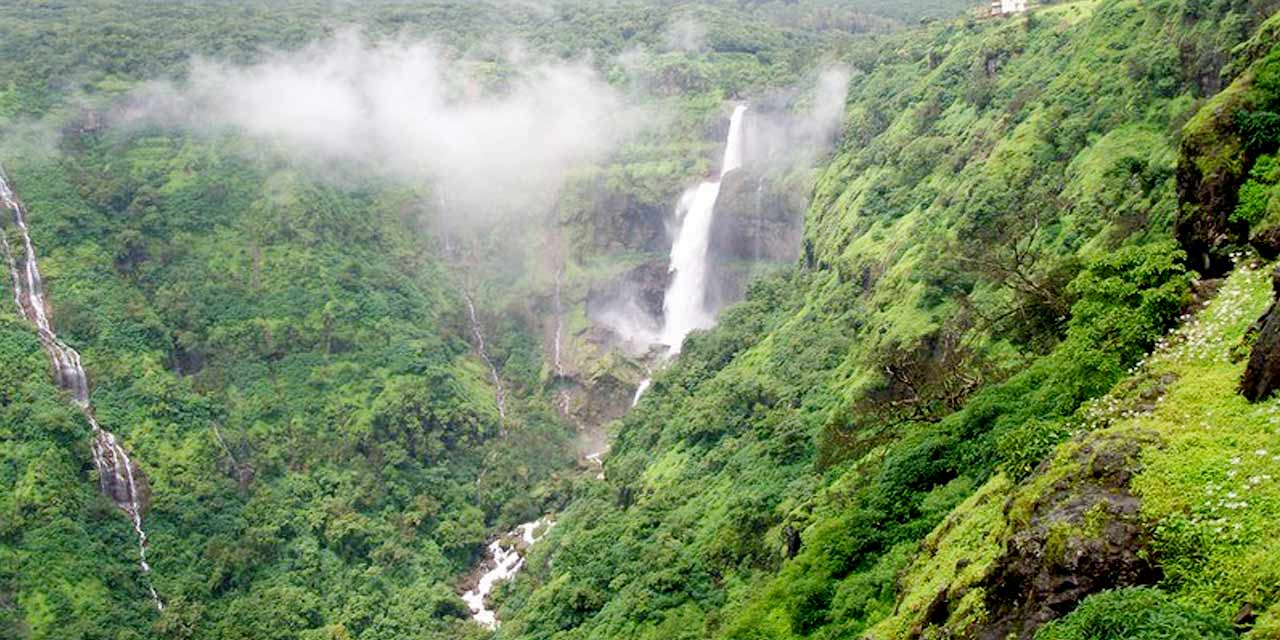 Lingmala Waterfall Mahabaleshwar Entry Fee
20 per person
10 for Still Camera
Lingmala Waterfall Mahabaleshwar Phone
---
Rating:

| 4/5 stars
Based on total 77 reviews
Lingmala Waterfall Mahabaleshwar Address: Panchgani , Mahabaleshwar, Maharashtra , 412806, India
Mahabaleshwar Tour Packages
Lingmala Waterfall Mahabaleshwar Timings
| Day | Timing |
| --- | --- |
| Monday | 8:00 am – 5:30 pm |
| Tuesday | 8:00 am – 5:30 pm |
| Wedesday | 8:00 am – 5:30 pm |
| Thursday | 8:00 am – 5:30 pm |
| Friday | 8:00 am – 5:30 pm |
| Saturday | 8:00 am – 5:30 pm |
| Sunday | 8:00 am – 5:30 pm |
Links:
Website
|
Map
---
Take a moment to appreciate the untouched, unspoiled, and unexplored beauty of Lingmala Waterfall on your Mahabaleshwar tour. Perched between Mahabaleshwar and Pune, the Lingmala Waterfall is among the popular sightseeing places that invite holidaymakers to enjoy a perfect weekend getaway in the serenity of nature.
Surrounded by the rocky mountains and an abundance of lush greenery, the Lingmala Waterfall offers a laid-back atmosphere with a tranquil environment to people looking to relax and rejuvenate far away from the daily city life. It's a kind of waterfall that is divided into two parts. While the lower part has a mini waterfall which is ideal for tourists to swim and splash around, the upper part has the main waterfall which is as high as 500 feet.
Don't try any kind of activity in the main waterfall as it can be dangerous for you and your family members. Also, please note that you need to trek for nearly 30-minutes from the mini waterfall to enjoy the magnificent views at the main waterfall.
Entry Fee and Timings of Lingmala Waterfall, Mahabaleshwar
The entry fee to visit the Lingmala Waterfall is INR 20 per person. In case you're carrying a camera with you, you need to pay an extra charge of INR 10 for it.
Coming to its timings, this waterfall can be enjoyed by tourists from 8:00 AM to 5:30 PM on all days and the recommended exploration time would be 1-2 hours.
Travel Tips for Lingmala Waterfall, Mahabaleshwar
Do not litter the place. Make sure to dispose of your waste in the dustbin.
Avoid visiting the waterfall if you're suffering from serious health conditions. Also, toddlers and the elderly are advised not to be here.
Wear sturdy shoes to feel comfortable all day long. The route back from the waterfall is quite steep; hence it's important to buy a pair of trekking shoes that helps you maintain the grip all along the way.
Image Gallery of Lingmala Waterfall Mahabaleshwar
Best Time to Visit Lingmala Waterfall, Mahabaleshwar
Although one can head towards Lingmala Waterfall at any time of the year, if you wish to soak in its beauty at its peak, then you should plan a getaway to this unspoiled site from July to October. Because this is the time when the level of water is at its peak, making it look even more beautiful and enjoyable. Please do not swim during the monsoon season as it could be dangerous for you and your family members.
How to Reach Lingmala Waterfall, Mahabaleshwar?
Situated at a distance of only 6 km from Mahabaleshwar Bus Stand, Lingmala Waterfalls can be accessed by people via local transportation. Depending on your budget and style, you can opt for your mode of commutation. For your convenience, there is a list of top car rental companies in Mahabaleshwar available at your ease.
The following are the different 3 ways to reach Mahabaleshwar:
By Air: Fly to Pune Airport to cover the maximum distance in the least possible time. The Pune Airport is the nearest airport to Mahabaleshwar and is approximately 120 km away. After deboarding your flight, you can take a bus or a rental taxi to get down to your desired location.
By Train: The first railhead that maintains close proximity to Mahabaleshwar is Wathar Railway Station. Another convenient option for tourists is the Pune Railway Station as it receives trains from almost all parts of the country. From there, you'll find numerous options to reach Mahabaleshwar in your comfort.
By Road: Lastly, the MSRTC department also operates various public and private buses to and from Mahabaleshwar on an everyday basis. Not only is it convenient for people of all ages but it is also pocket-friendly. So, if this suits you, you can surely go ahead with it.
---
Explore Mahabaleshwar and its famous sightseeing places with our all-inclusive Mahabaleshwar tour packages. We at Mahabaleshwar Tourism, a division of Holidays DNA, have designed a variety of travel packages to cater to everyone's varied holiday style, budget, and other needs. Our Mahabaleshwar travel packages can also be tailored based on your duration of stay. Do not forget to leverage the benefits of ongoing deals to enjoy your Mahabaleshwar tour at reasonable prices. To know more about us, we request you to fill out the Contact Us form.
Location Map for Lingmala Waterfall Mahabaleshwar