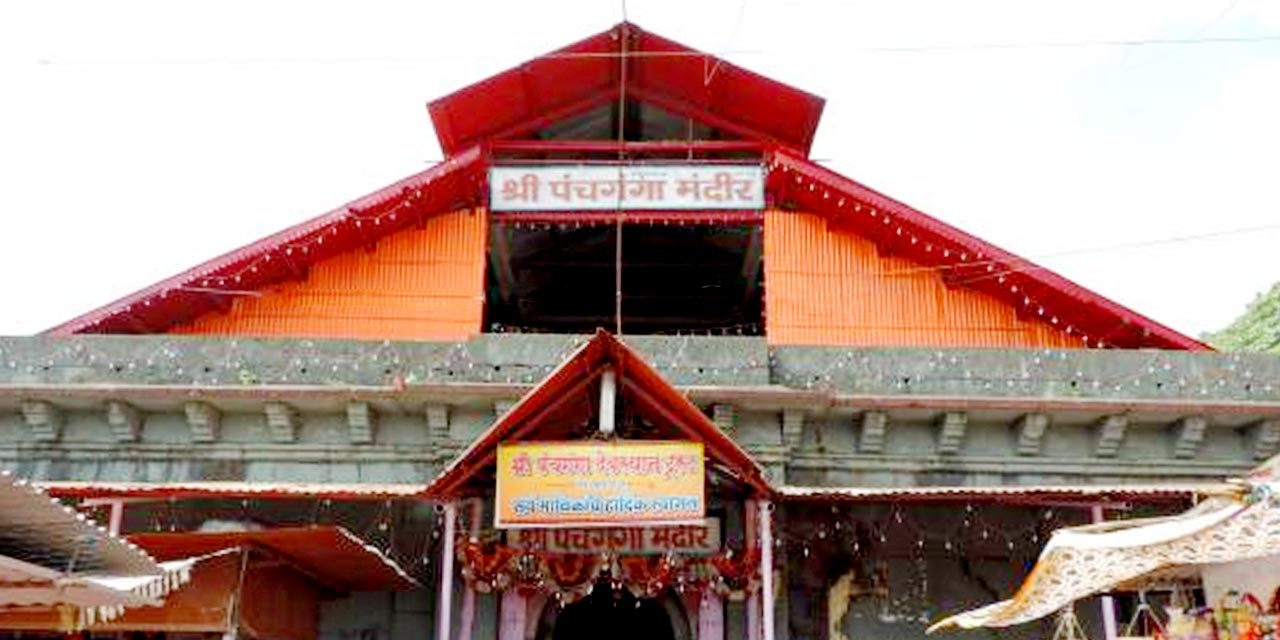 Panch Ganga Temple Mahabaleswar Entry Fee
Panch Ganga Temple Mahabaleswar Phone
---
Rating:

| 4/5 stars
Based on total 77 reviews
Panch Ganga Temple Mahabaleswar Address: State Highway 34 KA, Old Mahabaleshwar, Mahabaleshwar, Maharashtra , 412806, India
Mahabaleshwar Tour Packages
Panch Ganga Temple Mahabaleswar Timings
Day
Timing
Monday
5:00 am – 12:00 pm
4:00 pm – 9:00 pm
Tuesday
5:00 am – 12:00 pm
4:00 pm – 9:00 pm
Wedesday
5:00 am – 12:00 pm
4:00 pm – 9:00 pm
Thursday
5:00 am – 12:00 pm
4:00 pm – 9:00 pm
Friday
5:00 am – 12:00 pm
4:00 pm – 9:00 pm
Saturday
5:00 am – 12:00 pm
4:00 pm – 9:00 pm
Sunday
5:00 am – 12:00 pm
4:00 pm – 9:00 pm
Links:
Website
|
Map
---
Among the list of popular temples in Mahabaleshwar, Panchganga Temple is one such holy and divine site that draws a huge crowd of tourists due to its religious significance. It's a stunning ancient monument that is made at the confluence of 5 waterbodies named Krishna, Venna, Koyna, Savithri, and Gayathri. The water from these rivers mixes and comes out from the statue of a Gaumukh, which is the prime attraction of this temple. It is believed that people fill this water in their water bottle and bring it back to their homes to use in other religious rituals. Such is the purity of this water.
History of Panchganga Temple, Mahabaleshwar
Dating its history back to the 13th century, the Panchganga Temple was constructed by the then-Yadava King. Later, after so many years, there were many improvements done to its building in the 16th and 17th centuries. Then, Chhatrapati Shiva Maharaj and Chandra Rao More took the responsibility of this temple on their shoulders and restored it to keep the faith and trust of people alive.
It is said that the Panchganga Temple has an interesting tale attached to its origin. As per the legends, once Lord Vishnu, Lord Brahma, and Lord Shiva decided to do a Yagna in Mahabaleshwar. At that time, to complete the ritual, Lord Brahma was waiting for his wife, Goddess Savitri, but due to some unknown reasons, she was not there at the site. This whole situation made Lord Brahma very angry as Yagna was getting delayed.
To get the Yagna done on time, Lord Brahma requested that Lord Indra find a new girl. Lord Indra got a girl named Gayathri. Then, Lord Brahma married her and she sat with him in the Yagna.
Later, after some time, when Goddess Savitri arrived at the place and saw someone sitting at her place with Lord Brahma, she got irked. Her outrage was at its peak that she cursed everyone including the Trinity to be converted into rivers. Since then, the Lord Brahma here is known as the Venna River, Lord Shiva as the Konyana River, Lord Vishnu as the Krishna River, and Goddess Savithri and Gayathri are known by their name themselves.
Architecture of Panchganga Temple, Mahabaleshwar
Featuring beautiful architecture that is no less than a treat to watch, the Panchganga Temple has two marble ponds or water tanks that have pure and cool water from the 5 holy rivers. While the first Kund has a continuous flow of water, the second Kund receives water from the first Kund only when it overflows.
The cow sculpture, also known as Gawmukh, on both tanks looks absolutely stunning, encouraging people of all ages to visit the Panchganga Temple at least once. You can also pay heed to 5 mini halls along with the statue of the Lord Vishnu that attracts thousands of devotees every year.
Image Gallery of Panch Ganga Temple Mahabaleswar
Entry Fee and Timings of Panchganga Temple, Mahabaleshwar
Entry to Panchganga Temple is free for everyone but you need to pay a small amount for the footwear that you'll remove outside the temple, which could be either INR 5 or INR 10 for each pair of slippers.
Speaking of the timings, one can enjoy a visit at any time from 5:00 AM to 12:00 PM in the afternoon and then from 4:00 PM to 9:00 PM in the evening on all days. The recommended exploration time would be at most 1 hour on regular days. In case you're heading towards this temple during the festivals or peak season, you would need to spare some more time from your busy schedule as there are high chances of long queues of people standing in the crowd.
Travel Tips for Panchganga Temple, Mahabaleshwar
Don't enter the temple with your footwear.
Photography is strictly prohibited within the premises of the temple. If found, you may be heavily fined by the authorities.
Best Time to Visit Panchganga Temple, Mahabaleshwar
One can plan a getaway to Mahabaleshwar at any time as the climate of this hill area remains pleasant throughout the year. However, to visit the Panchganga Temple, the recommended season would be during the monsoon i.e., from July to October. This is the time when the real beauty of this place gets amplified. Also, as the shrine is based on rivers, so when it rains, the level of the water gets at its peak, making it look jaw-dropping.
Facilities at Panchganga Temple, Mahabaleshwar
Drinking water is there for the ease of devotees of all ages. One can also use the washrooms in case of an emergency.
There is ample paid parking space available. For 2-wheelers, it charges INR 10, for small 4-wheelers, the amount is INR 20, and for large 4-wheelers, you'll need to pay INR 50.
You can also head to the various eateries along with many food stalls to hog on your favorite food items whenever you feel hungry.
How to Reach Panchganga Temple, Mahabaleshwar?
Situated just a few steps away from the famous Mahabaleshwar Temple, the Panchganga Temple can be easily accessed by people through local transportation. Among all the ways of commuting, the best way is to hire a private cab from the list of top car rental companies in Mahabaleshwar to go to your desired location within the town in your utmost comfort.
It is worth noting that Mahabaleshwar doesn't own an airport. So, for all international travelers, Pune International Airport is the closest air terminal where you can fly from anywhere in the world to reach Mahabaleshwar in a minimum time. From there at the airport, you'll find several options that will further help you move ahead.
Another way is via public and private buses operated by the MSRTC department. You can also choose to self-drive from the neighboring cities of Maharashtra to enjoy the road journey to Mahabaleshwar the way you want. The choice is yours!
---
Need any help with your Mahabaleshwar tour? Get in touch with us! We at Mahabaleshwar Tourism, a division of Holidays DNA, present a variety of Mahabaleshwar tour packages to cater to everyone's varied holiday style, duration, and budget needs. You can also ask our team to add a personal touch to your travel package as per your requirements. Don't forget to avail yourself of our ongoing deals to make the most of your trip at reasonable prices while visiting the top sightseeing places of Mahabaleshwar. Please fill out the Contact Us form to know more about our offerings!
Location Map for Panch Ganga Temple Mahabaleswar