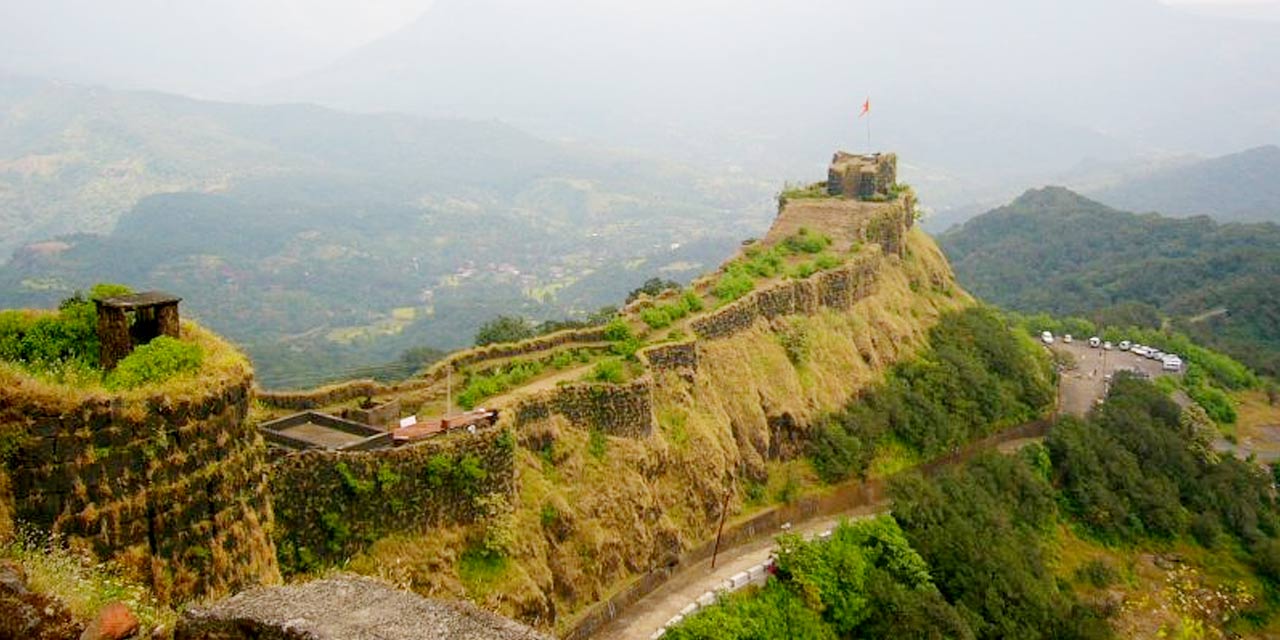 Pratapgarh Fort Mahabaleshwar Entry Fee
Pratapgarh Fort Mahabaleshwar Phone
---
Rating:

| 4/5 stars
Based on total 73 reviews
Pratapgarh Fort Mahabaleshwar Address: Poladpur Mahabaleshwar Road, Mahabaleshwar, Maharashtra , 412806, India
Mahabaleshwar Tour Packages
Pratapgarh Fort Mahabaleshwar Timings
| Day | Timing |
| --- | --- |
| Monday | 10:00 am – 6:00 pm |
| Tuesday | 10:00 am – 6:00 pm |
| Wedesday | 10:00 am – 6:00 pm |
| Thursday | 10:00 am – 6:00 pm |
| Friday | 10:00 am – 6:00 pm |
| Saturday | 10:00 am – 6:00 pm |
| Sunday | 10:00 am – 6:00 pm |
Links:
Website
|
Map
---
The pride of the Maratha Empire, the Pratapgarh Fort is a historical monument that welcomes all the people interested in knowing everything about the history of the fort. Perched in Satara district and at an altitude of 3500 feet above ground level, the Pratapgarh Fort was built by Maratha King – Chhatrapati Shivaji Maharaj in 1656 to guard the Par Pass.
Three years later, a major fight between the General of Bilaspur - Afzal Khan, and Shivaji happened here. Shivaji emerged as the winner at that time of the battle. However, in 1818, after losing the 3rd Anglo-Maratha war, the Marathas had to surrender it to the English East India Company.
After this, the Afzal Tower, in memory of Afzal Khan, was constructed outside the fort to keep a watch on the enemies. Later, the tower was renamed Afzal Buruj.
Architecture of Pratapgarh Fort, Mahabaleshwar
The Pratapgarh is categorized into 2 parts – the upper fort and the lower part. While the upper part of the fort is square in shape and 180 meters long from each side, the lower part of the fort is 320 meters long and 110 meters wide.
The Pratapgarh Fort features the Mahadev Temple and Bhavani Temple along with a watchtower that is situated at its main entrance. Here you can also find a 17-feet tall statue of Shivaji Maharaj in its full glory. This statue was installed around 60 years back and it was finally unveiled by Pandit Jawaharlal Nehru on 30th November 1957.
Things to do at Pratapgarh Fort, Mahabaleshwar
Visit the Bhawani Temple to seek blessings from the presiding deity. It is said that Shivaji Maharaj was blessed with a sword at this religious site and since then, it has been gaining everyone's attention.
Head to the Cultural Library to witness the heritage of the fort. Right from how the idea of building the fort came into existence to what modifications have been made until now, the Cultural Library displays everything.
Spare some time for the Handicraft center on your way to the fort to buy some souvenirs for your loved ones back home. Undoubtedly, it's a great way to cherish your visit for an entire lifetime.
Hog on your favorite food items to treat your taste buds. There are many restaurants around the fort that invite people to enjoy an exclusive gastronomy experience in their comfort. In case you're craving homemade food, it is also available in wada village, which is accessible through the motorable road.
Image Gallery of Pratapgarh Fort Mahabaleshwar
Entry Fee and Timings of Pratapgarh Fort, Mahabaleshwar
There is no entry fee to visit Pratapgarh Fort in Mahabaleshwar. It remains open for its tourists from 10:00 AM to 6:00 PM on all days and the recommended exploration time is 3-4 hours.
Travel Tips for Pratapgarh Fort, Mahabaleshwar
Wear comfortable clothes and shoes to enjoy your time to the fullest.
Don't forget to apply good quality sunscreen to protect your skin from getting sunburned.
Carry enough drinking water to remain hydrated all day long. There are 4 lakes within the fort, but if you're allergic to outside water, you can always have it with you.
Always bring a camera for HD pictures. The pictures should be good enough to take you back to memory lane whenever you do have a look at them.
Hire an experienced guide to know each and everything about this fort in detail. The guided tours charge nearly 300 per family.
Best Time to Visit Pratapgarh Fort, Mahabaleshwar
Although one can plan a getaway to Pratapgarh Fort at any time of the year, if you're looking to explore its beauty at its best, then the ideal timings would be during the monsoon season i.e., from July to September. At this time, this architectural marvel looks ravishing as its overall beauty gets amplified when it rains, giving you a chance to click some pictures you'll cherish for your entire life.
How to Reach Pratapgarh Fort, Mahabaleshwar?
The Pratapgarh Fort in Mahabaleshwar can be easily accessed by people via a local bus or a taxi that helps you enjoy hassle-free traveling within the town. However, to reach the fort, you need to first get down to Mahabaleshwar which can be done through one of the following ways:
By Air: The closest airport is Pune International Airport. You can board a flight from anywhere in India or outside the country to fly to this airport at your convenience. It can be an expensive way of traveling, but it's undoubtedly the best option for all who wish to cover the maximum distance in the minimum time.
By Train: Pune Railway Station is the nearest major railhead that lies in close proximity to Mahabaleshwar and it receives trains from almost all the metro cities of India. After arriving at the Pune station, you can choose to travel in your mode of commutation to get to your desired location in Mahabaleshwar.
By Road: The MSRTC department runs various state-owned buses for the ease of people of all ages at pocket-friendly prices. If you like road traveling and are coming from the neighboring areas of Maharashtra, you can self-drive all the way or simply rent a cab of your choice from the list of top car rental companies in Mahabaleshwar.
---
Enjoy the best of Mahabaleshwar with our all-inclusive Mahabaleshwar tour packages. We at Mahabaleshwar Tourism, a division of Holidays DNA, offer a variety of travel packages to meet everyone's varied holiday needs, budget, style, and other preferences. Depending on your getaway duration, our Mahabaleshwar packages can also be altered. To know more about our packages in detail, we request you to fill out the Contact Us form.
Location Map for Pratapgarh Fort Mahabaleshwar