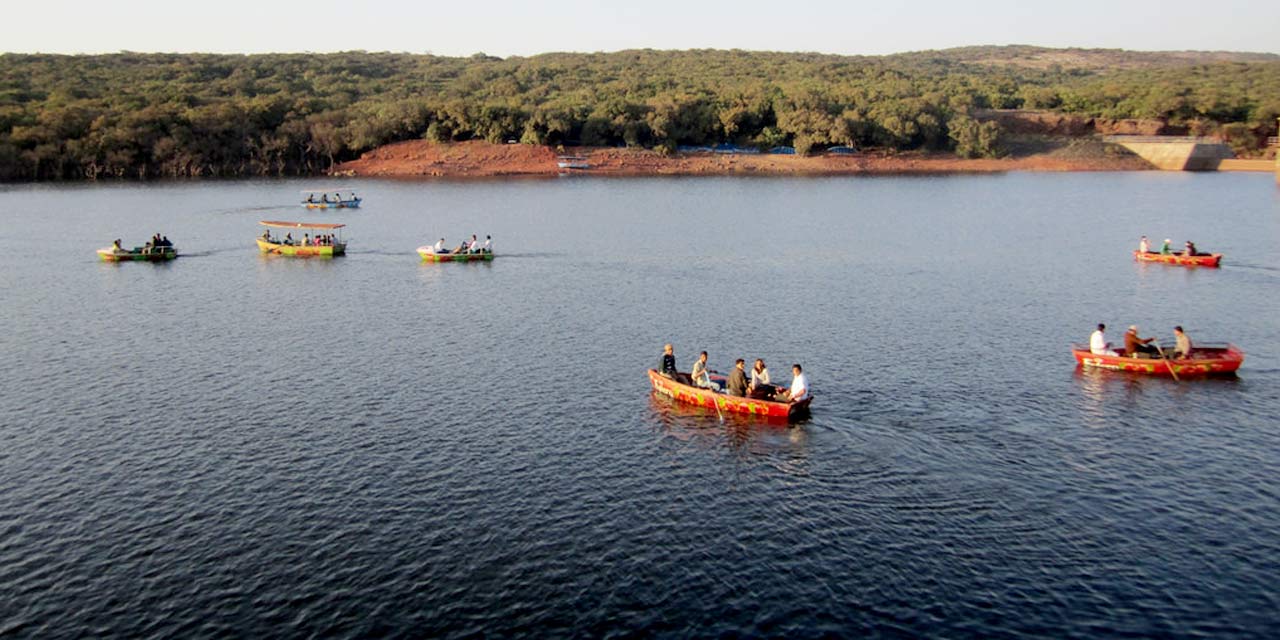 Venna Lake Mahabaleshwar Entry Fee
No Entry Fee
500 for 1 hour for Row Boat (Max 6 persons)
250 for 30 Mins Row Boat (Max 7 persons)
440 for 1 hour for Peddle Boat (Max 6 persons)
150 for 1 round of Horse Riding
Note: Boating club is open till sunset only
Venna Lake Mahabaleshwar Phone
---
Rating:

| 4/5 stars
Based on total 62 reviews
Venna Lake Mahabaleshwar Address: Satara, Mahabaleshwar, Maharashtra , 412806, India
Mahabaleshwar Tour Packages
Venna Lake Mahabaleshwar Timings
| Day | Timing |
| --- | --- |
| Monday | 8:00 am – 8:00 pm |
| Tuesday | 8:00 am – 8:00 pm |
| Wedesday | 8:00 am – 8:00 pm |
| Thursday | 8:00 am – 8:00 pm |
| Friday | 8:00 am – 8:00 pm |
| Saturday | 8:00 am – 8:00 pm |
| Sunday | 8:00 am – 8:00 pm |
Links:
Website
|
Map
---
A must-visit tourist attraction on your Mahabaleshwar tour, Venna Lake is a scenic man-made lake that invites people of all ages to spend some quality time with their loved ones. Constructed in the year 1942 by Shri Appa Saheb Maharaj, the Venna Lake was initially built to serve water to the nearby areas of the town. Slowly and steadily, it gained everyone's attention and hence, became a go-to place for a perfect weekend getaway.
Things to do at Venna Lake, Mahabaleshwar
Considered among the popular sightseeing places in Mahabaleshwar, Venna Lake has many things to keep you engaged all the time. Below mentioned are a few ones that you should definitely indulge in, whether you're here for an hour or a half-day:
Boating: Enjoy boating to make the most of your time at Venna Lake. It's one of the must do things here among the tourists. Depending on your overall strength and stamina, you can choose from row boats and pedal boats. Both the boats are known for giving a kind of experience that is worth cherishing for a lifetime.
Admire the Natural Bounty: Heaven for nature buffs, the Venna Lake, surrounded by lush greenery and picturesque beauty, offers a serene setting with a laid-back atmosphere for tourists to relax, unwind, and declutter their minds. You can be as close to nature as you want and soak in its vibes to feel refreshed and rejuvenated.
Eat your Heart Out: Relish the taste of a wide range of mouthwatering street food like bhelpuri, pav bhaji, and hot corn tikkis at Venna Lake. There, you'll find several local vendors selling snacks to serve the little hunger pangs of people roaming around. You can also have fruits like carrots, strawberries, and mulberries to avoid the unhealthy calories in your meal.
Other than these, kids can hop on rides like a merry-go-round and toy train to have the time of their life at Venna Lake. Horse Riding is also available here for your utmost enjoyment.
Entry Fee and Timings of Venna Lake, Mahabaleshwar
As such, there is no entry fee to visit Veena Lake in Mahabaleshwar, but if you're interested in boating, you'll need to pay INR 250 for row boats for 30 minutes and INR 440 for pedal boats for 1 hour. The row boats carry a maximum of 7 people and the paddle boats carry 6 people at a time. In case you wish to enjoy boating on row boats for one hour, the authorities will charge INR 500 for it.
Coming to the timings, the Venna Lake opens its door for its visitors from 8:00 AM to 8:00 PM on all days. Please note that boating in the lake is allowed until sunset only.
Image Gallery of Venna Lake Mahabaleshwar
Travel Tips for Venna Lake, Mahabaleshwar
Carry valid ID proofs with you.
Refrain from littering the area. Make sure to keep the lake clean just like your home.
Bring enough drinking water to stay hydrated throughout the time.
Apply good quality sunscreen lotion to protect your skin from getting sunburn during the day.
Best Time to Visit Venna Lake, Mahabaleshwar
March to June is the ideal time to head towards Venna Lake. At this time, the overall weather remains pleasant for tourists to roam around and explore the popular sightseeing places in Mahabaleshwar. Also, this is considered a favorable period for tourists to engage in various activities at the lake, thus attracting people from all across the nation.
Do not plan your getaway to Venna Lake between July and September as the region tends to receive heavy rainfall, making it difficult for people to enjoy their visit to the fullest.
How to Reach Venna Lake, Mahabaleshwar?
Getting to Venna Lake in Mahabaleshwar is quite easy. Since it is only 2 km away from the main market of the town, it can be accessed by both locals and tourists via a short stroll. If you're too lazy to walk around, hire a taxi from the list of top car rental companies in Mahabaleshwar to enjoy the ride to your destination.
The following are the different ways to go to Mahabaleshwar:
By Air: The nearest airport is the Pune International Airport. Lying 76 km away from the lake, the Pune Airport receives flights from all parts of the world. So, whether you're a domestic or an international traveler, you can fly down to this airport in a hassle-free manner.
By Train: Although Wathar Railway Station is considered the closest airport to Mahabaleshwar, due to its fewer train services to the other parts of the city, most tourists prefer catching a train to Pune Railway Station, which is approximately 120 km away.
By Bus: ST Bus Stand is the closest bus stand to Venna Lake and it is 2 km away from your desired location. Not only does the bus stand operate bus services from almost all the nearby cities but also offers the facility of auto-rickshaws and local buses for the last mile travel.
By Road: Mahabaleshwar maintains great connectivity to the rest of the cities of Maharashtra by road, thus making it convenient for travelers to take a road trip to Mahabaleshwar in their own comfort. After reaching Mahabaleshwar, you can go wherever you wish to go.
---
Explore the best of Mahabaleshwar with our all-inclusive Mahabaleshwar tour packages. We at Mahabaleshwar Tourism, a division of Holidays DNA, present our travelers with a diverse range of travel packages that can be customized suiting their varied traveling needs. Our team of travel experts also helps you select a package along with curating an itinerary of your choice. Please fill out the Contact Us form to know more about our services in detail.
Location Map for Venna Lake Mahabaleshwar