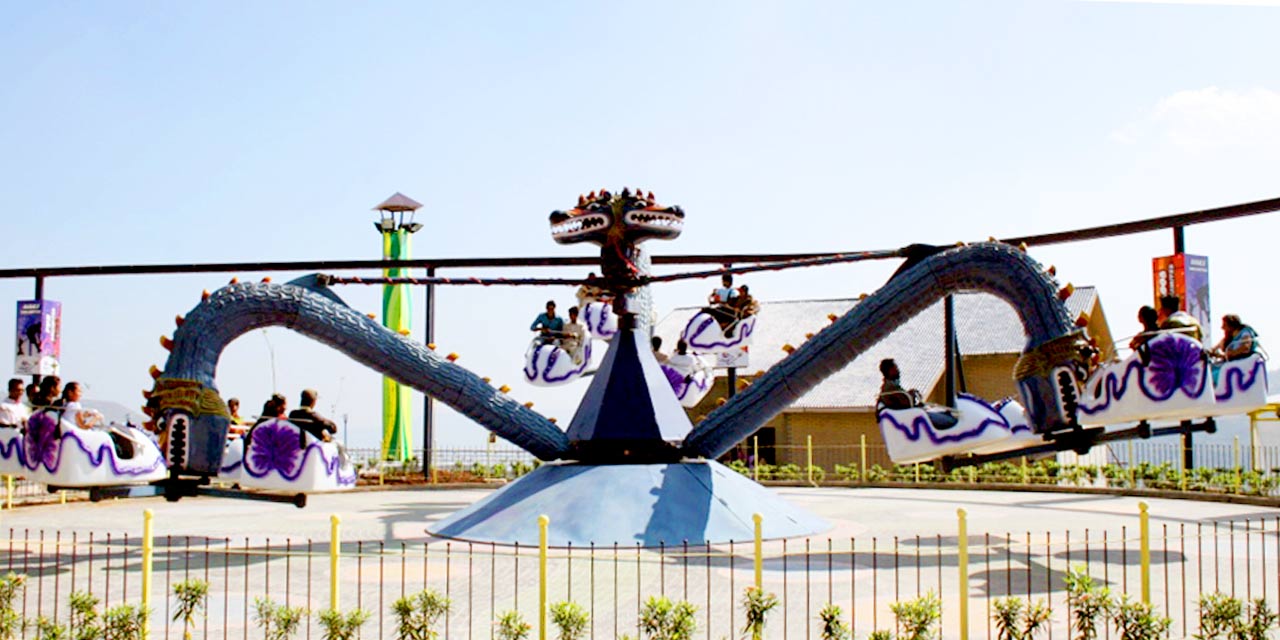 On Wheelz Mahabaleshwar Entry Fee
50 per person
100 per person for each ride

For Unlimited Package
450 per person for Adults
350 per person for Children
On Wheelz Mahabaleshwar Phone
---
Rating:

| 4/5 stars
Based on total 74 reviews
On Wheelz Mahabaleshwar Address: Survey No. 7, Taighat, Near Sanjeevan High School, Panchgani, Satara , Mahabaleshwar, Maharashtra , 412805, India
Mahabaleshwar Tour Packages
On Wheelz Mahabaleshwar Timings
| Day | Timing |
| --- | --- |
| Monday | 10:00 am – 7:00 pm |
| Tuesday | 10:00 am – 7:00 pm |
| Wedesday | 10:00 am – 7:00 pm |
| Thursday | 10:00 am – 7:00 pm |
| Friday | 10:00 am – 7:00 pm |
| Saturday | 10:00 am – 9:00 pm |
| Sunday | 10:00 am – 9:00 pm |
Links:
Website
|
Map
---
Ideal for a perfect weekend getaway outing, the On Wheelz Amusement Park is an unspoiled recreational site that offers full-fledged entertainment to people of all ages.
Situated in the picturesque valley of Mahabaleshwar, On Wheelz Amusement Park boasts a wide range of adrenaline-fuelled rides to fill your day with loads of fun, entertainment, thrill, excitement, and action. Combining the best of the facilities with state-of-the-art equipment, this place gives you a chance to break the monotony of boring life and do something really interesting. It is a great spot for all those who wish to test their hidden adventurous talent and can also be enjoyed by families with children.
Things to do at On Wheelz, Mahabaleshwar
Try your hand at rides like Breakdance, Ferris Wheel, Mono Train, Striking Car, Free Fall, Octopus, Tsunami, etc., to set your heart pumping out. All these rides are specially designed for adults and provide an equally rewarding experience.
Take your kids to the Garden play area and see them having the best time of their life. There is a dedicated section of rides for children and many indoor games for your utmost enjoyment.
Head to the terrifying Horror House for a nail-biting experience that will leave you awestruck for many days. Refrain from entering its gate in case you're pregnant or have faced any major problem such as a heart attack in the past. It could be dangerous for you and your family members.
Visit the on-site restaurant to satisfy your post-adventure hunger pangs. Known to cater to all taste buds, the in-house restaurant at On Wheelz offers a diverse range of sandwiches, pizzas, snacks, and a large assortment of beverages for children, young adults, and senior citizens.
Image Gallery of On Wheelz Mahabaleshwar
Entry Fee and Timings of On Wheelz, Mahabaleshwar
The entry fee to visit the On Wheelz Amusement Park is INR 50 per person. For each ride, it charges INR 100 per person from people of all ages. However, if you're looking for an unlimited package to make the most of your visit, you'll need to pay INR 350 per person for children and INR 450 per person for adults.
Speaking of its timings, the On Wheelz Amusement Park has different timings on weekdays and weekends. On weekdays i.e. from Monday to Friday, it remains open from 10:00 AM to 7:00 PM, and on weekends i.e., on Saturday and Sunday, the site welcomes its visitors from 10:00 AM to 9:00 PM. The recommended exploration time would be 3-4 hours.
How to Reach the On Wheelz Amusement Park, Mahabaleshwar?
Perched at a distance of only 3 km away from the main market of Panchgani and 18 km away from Mahabaleshwar, On Wheelz Amusement Park can be accessed by locals as well as tourists through local transportation. You can either take an auto-rickshaw ride or a cab from the list of top car rental companies in Mahabaleshwar for hassle-free commutation within the area.
The following are 3 different ways to go to Mahabaleshwar:
By Air: Pune International Airport is the nearest air terminal that has flights from almost all the major airports of India. You can also take an international flight to New Delhi or Mumbai and then board a connecting flight to Pune to cover the maximum distance in the least possible time.
By Train: The closest railway station to Mahabaleshwar is Wathar Railway Station. However, due to its less connectivity to the other railway stations, many people prefer experiencing a smooth and comfortable train journey to Pune Railway Station. From there, you can find many options to reach your desired location.
By Road: For your ease, there is a regular service of private and state-owned buses operated by the MSRTC department at pocket-friendly prices. You can also travel in luxury coaches if it's an overnight journey for you. Alternatively, self-driving is always an option available for all who love enjoying road traveling. The choice is yours!
---
Mahabaleshwar has a lot more to offer to its avid travelers than just this amusement park. If interested and have time, you can plan to include a few more places in your itinerary list to enjoy your Mahabaleshwar tour to the fullest. To have a great time, you can also go through our all-inclusive Mahabaleshwar tour packages. Our Mahabaleshwar tour packages can be customized to suit your varied holiday budget, style, and other needs. Please fill out the Contact Us form to know more about our services in detail.
Location Map for On Wheelz Mahabaleshwar